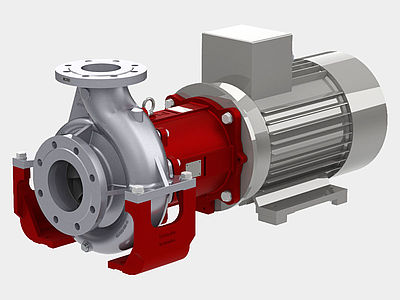 Description
SpeckAustralia.com is the official heat transfer pumps supplier and distributor for Speck in Australia and New Zealand. Speck Australia is a subsidiary of Speck Pumps of Roth, Germany who are high quality manufacturers of heat transfer pumps.
Heat Transfer Pumps Advantages
Speck Heat Transfer pumps are high-quality, reliable pumps for low and high temperature applications. They are safe in operation with ATEX versions being available, and are robust and easy to service.
High-quality, reliable pumps for low- and high-temperature applications
Safe in operation, easy to service and robust
Heat Transfer Pumps Description
These are modular system pumps with 6 model series. The pumps incorporate mechanical seal or magnetic coupling, with a volute casing or inline casing, and with a base plate or bracket. Standard format is PN 16, with bearing brackets 360 and 470. This series comes with centreline mounting and/or double volutes. Available materials are spheroidal graphite cast iron and stainless steel designs
Maximum Temperature:
Hot water up to 160 °C, up to 180 °C upon request
Heat transfer oils from -100 °C to 350 °C, up to 400 °C upon request
Available as ATEX II 2GD IIC cb TX
Modular system with 6 model series
Pumps with mechanical seal or magnetic coupling, with a volute casing or inline casing, with a base plate or bracket
PN 16, bearing brackets 360 and 470
Pumps with centreline mounting and/or double volutes
Spheroidal graphite cast iron and stainless steel designs
Tmax
Hot water up to 160 °C, up to 180 °C upon request
Heat transfer oils from -100 °C to 350 °C, up to 400 °C upon request
ATEX II 2GD IIC cb TX
eat transfer pumps with mechanical seal
ISO
50 Hz: 2900 1/min,
max. 100 m / 540 m³/h
60 Hz: 3500 1/min,
max. 100 m / 460 m³/h
US
p class="bodytext">with mechanical seal
50 Hz: 2900 1/min,
max. 328 ft / 2378 GPM
60 Hz: 3500 1/min,
max. 328 ft / 2025 GPM
Heat transfer pumps with magnetic coupling
ISO
50 Hz: 2900 1/min,
max. 100 m / 540 m³/h
60 Hz: 3500 1/min,
max. 100 m / 460 m³/h
US
with magnetic coupling
50 Hz: 2900 1/min,
max. 328 ft / 2378 GPM
60 Hz: 3500 1/min,
max. 328 ft / 2025 GPM